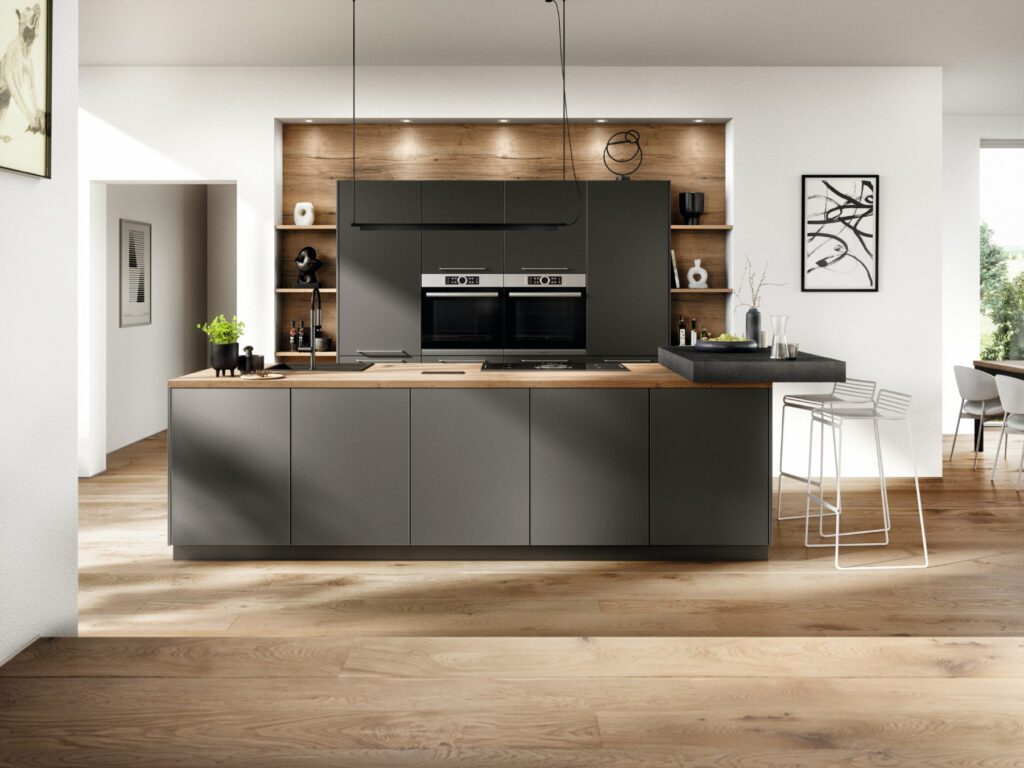 Nobilia German Kitchens Derbyshire
Nobilia German Kitchens by Square is Derbyshire's leading specialist in premium quality fitted kitchens.
We have developed a customer base across Derbyshire and bring years of experience to designing and installing your dream kitchen. Our friendly and dedicated team are always on hand to help and assist.
Are you installing in an existing kitchen space? Working with a newly-converted room? Or are you building into a new-build extension? Whatever your circumstances, we can match your budget and your style.
We work with Nobilia, the largest kitchen manufacturer in Europe to offer an incredible choice of designs and combinations – and if you don't see what you want, we offer bespoke designing services too!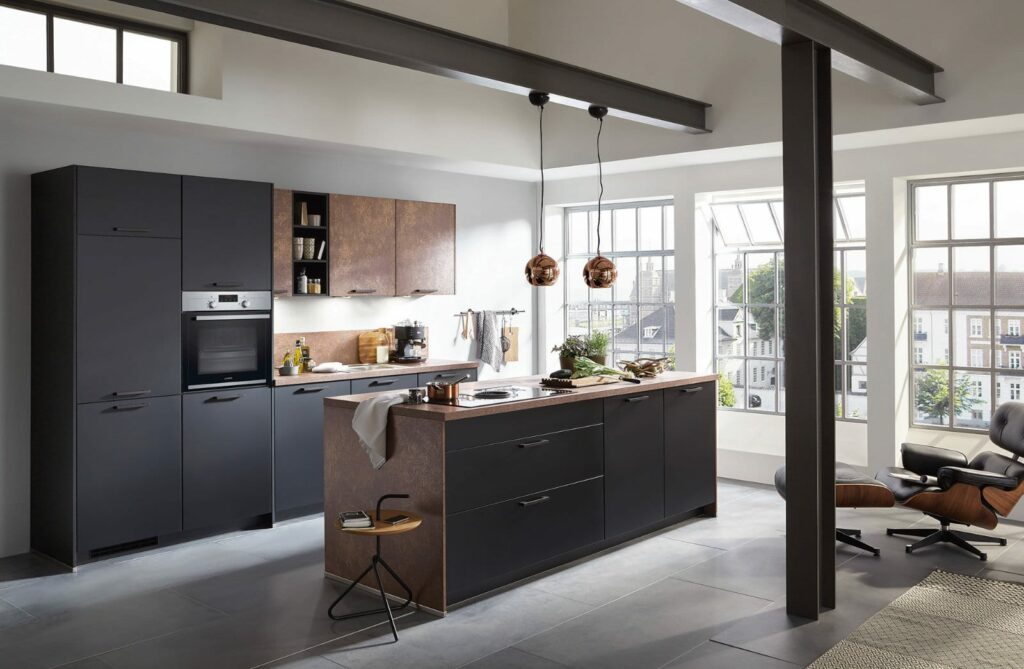 Why German Kitchens? Quality and Design
Nobilia are based in Germany and are the largest family-owned kitchen manufacturer in the world, they manufacture over 3,000 complete kitchens every single day and they have the skill and experience to offer exceptional quality at highly competitive prices.
As a certified, ISO registered company with over 65 years' experience, Nobilia stands for quality in every stage of creating a kitchen. You can be confident that your Nobilia German kitchen will be beautiful and functional, well-designed and well-crafted, a stunning combination of value and quality.
We have worked closely with Nobilia for years and as a result of that relationship, we're in a position to offer our customers the newest interior innovations – we are so confident that you'll love the result, we offer a five-year, no-quibble money-back guarantee.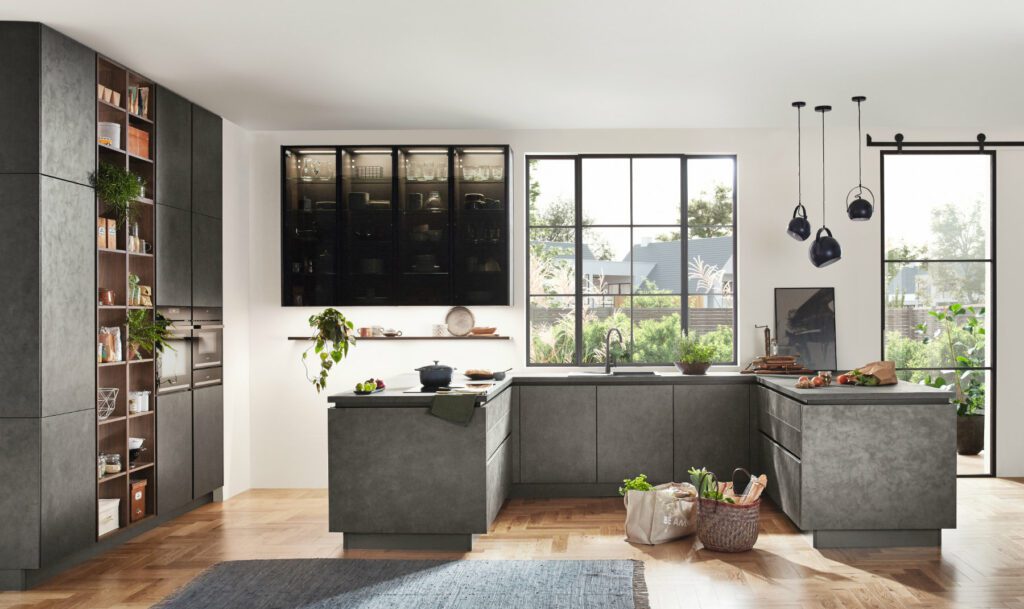 Specialists in German Fitted Kitchens
Our clients come to us with varying budgets, but they're usually between £12,000 and £30,000. So what does that get you?
With us,it gets you a comprehensive service that goes right from initial design ideas, all the way to installation. Design, furniture, appliances, work surfaces, accessories, delivery, are all managed by a dedicated project manager who will oversee every stage of the project, ensuring accountability and smooth delivery you your dream kitchen.
We are always looking for new ways to meet our clients' needs and that means being totally focussed on creating and delivering a stylish and functional kitchen with a huge choice of options.
There is no point designing a kitchen that looks nice in the showroom but fails to deliver when a busy family put it to the test so with our smart storage solutions, subtle lighting and thoughtful planning we always create a kitchen that looks great and works great too!
Whether you are looking for spare modern lines, contemporary curves or a twist on a classic, we're confident we can deliver a kitchen that stays inside your budget but goes way beyond your expectations.
At Nobilia German Kitchens by Square, we are proud of our work – but we are more proud of our customer service, superb value and incredible range of kitchen choices.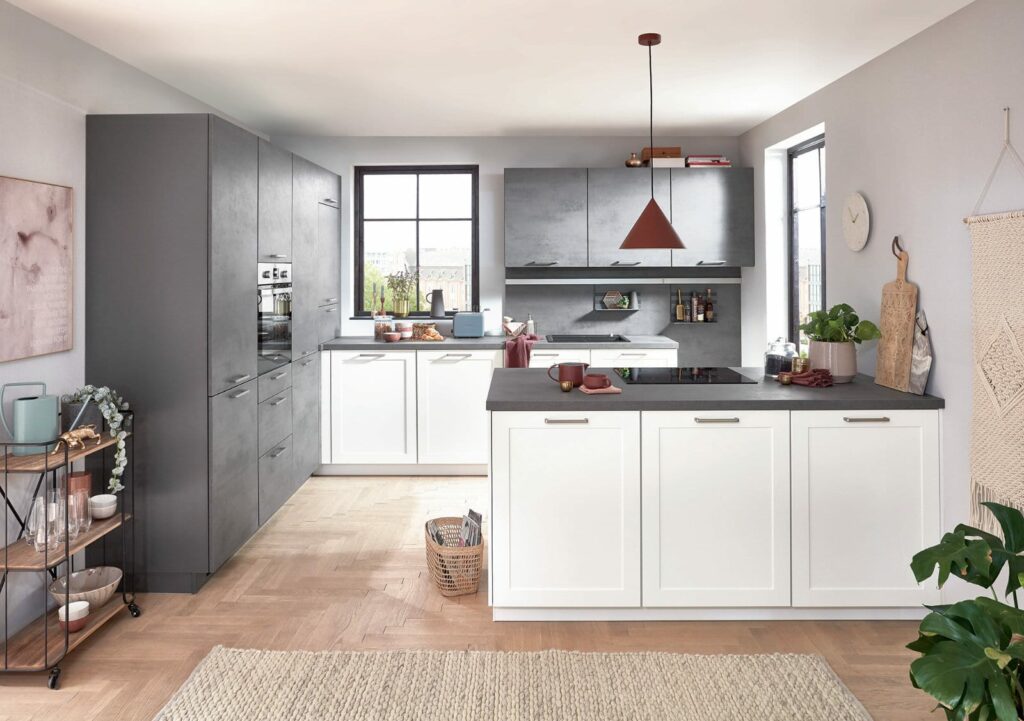 German Kitchen Showroom
We are a complete service; everything you need is right here in our Sheffield showroom. All design and project work is carried out under one roof, so all you need to worry about is what to cook first in your new kitchen!
Our offices and showroom are in Halfway, Sheffield, just a few minutes from the M1 on the A1635.
Feel free to visit and talk to us, we are certain that we will have something for you, something to suit your style, your space and of course your budget.
Sheffield Kitchen Showroom
Visit our Nobilia German kitchen showroom, located in Halfway, Sheffield just 10 minutes from M1 motorway junctions. Spread over 2 floors we have a broad range of kitchens on display from Nobilia. This includes modern, contemporary, handles and handleless, ultra-minimalistic and traditional – a style to suit every taste and budget! Our team are very relaxed, so pop in for a browse and a chat, or else please book ahead so we can sit down and together discuss your plans over a coffee.
Opening Hours
Monday: Friday: 9:30am – 6pm
Saturday: 10am – 4pm